Ao nang Krabi
Ao Nang is a sub-district or a tambol of Krabi province, a part of Nopparatthara National Park Beach – Mu Koh Phi Phi. In Thai word, Ao means "Bay". Ao Nang or Nang Bay is fulfilled with beautiful scenery, stranger than other beaches. Ao Nang is one of the mountain cave stalagmite stalactite such as Railay, Phranang Cave Beach, Koh Poda, Tonsai Bay, etc. They are completely surrounded by the limestone hills so you cannot reach there by car. Getting to these attracting places, you have to take a boat. You may hire a long-tailed boat from Aonang. See Ao nang Map.
Travel is easy, a local tour operation can lead you to every place.
Ao nang is formally Ao Phra Nang meaning Princess Bay. Eventhough everybody uses the short form, Ao Nang is the most 'Westernized' beach in Krabi,
See more Ao Nang Activities.
Orienting yourself in Ao Nang is easy: almost everything is located either along the beach, which runs west-east, or along the Airport Road (Highway 4203) which goes up north from the east end of the beach. Long-tails arrive on the beach near the junction of the two roads.
See more how getting to Ao Nang.
There is another attraction nearby e.g. Chicken island, Thap island, Poda island, etc. Their shapes are different as per imagination of the spectator. You may find a fine hotel of Ao nang by check our lowest room rates. Ao nang Hotels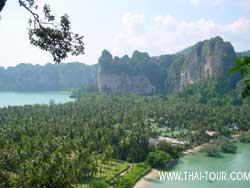 Popular activities includes rock climbing, sea canoeing, trekking, sight-seeing of islands e.g. Koh Kai, Koh Thap, Koh Poda, one of Unseen Thailand.
Railay is suite for the ones who love natural relaxation, escaping the ever-growing crowds, neither light nor sound like Phuket or Koh Samui. Shadow of limestone Cliff in the evening, while I'm watching the sun on the beach, is attracting me to return once again. Another highlighted attractions are white sand beaches of nearby islands and viewpoint of Railay. Check more Railay.
Phi Phi is not far from Ao Nang. You may buy a 1-day trip to Koh Phi Phi while staying at Aonang. You may take a trip for a few nights at Koh Phi Phi. Find more activities in Phi Phi hotels.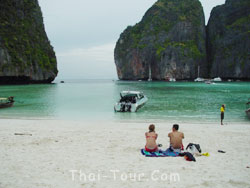 Krabi Town is also interesting if you want to explore a jungle. Thanbokkonni National Park. Khao Phanom Benja. Bird Watching at Khao Nor Ju Jee. Sea Kayaing at Tha Lane. Trekking to Hot Waterfall (Nam Tok Ron) at Klong Thom. Taking a long-tailed boat to Phi Hua To Cave. Actually, in Krabi, there are a lot of unexplored area. Recently, we get a news about ancient kitchenwares found in a cave of Krabi. Find more Attractions in Krabi Town.